Global Diagnostics Industry
The diagnostics industry involves testing patients to detect disease.Diagnosis can be used in the case of patients already presenting symptoms of disease,to screen asymptomatic patients as a matter of routine,and to allow ongoing testing in patients with disease to establish prognosis or check progress of therapy.The section is part of thewider healthcare industry.
The market can be broadly divided into:
In vitro diagnostics(IVD),which refers to testing samples of blood,tissue,for exampleelectrocardiography;and
Diagnostic imaging,such asx-rays,,computerized axial tomography(CAT),,mammogramsandmagnetic resonance imaging(MRI).
Leading Market Segment
The IVD market,estimated at $44 billion in 2010,is predicted to reach $52 billion by 2013 with a compound annual grown rate of approximately 5%,according to research from RNCOS.A particularly profitable growth sector within IVD,molecular diagnostics is predicted to reach $15 billion by 2014 at a compound annual growth rate of just under 20% reports Renub Research.Infectious diseases account for more than a fifth of this segment,followed by oncology testing.By 2014 blood testing and genetic screening together will account for over a quarter of the market,with the US representing $6 billion of the molecular diagnostics market by that time.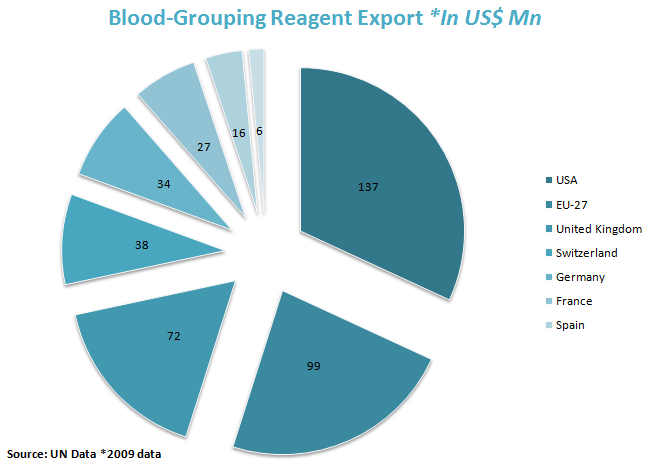 Diagnostics Industry Regional Market Share
The In Vitro Diagnostic market is dominated by the US and the EU,which combined comprise about three quarters of the global market.This is because developed countries are witnessing a proliferation of diet and lifestyle related diseases such as cancer,diabetes and cardiovascular disease,whereas developing countries are more concerned with the diagnosis of infection and infectious disease.
In the lead,the IVD market in the US is forecast to grow 5.4% annually,reaching $23 billion in 2013.According to Global Industry Analysts,the US molecular diagnostics market will be over $6.35 billion by 2015.
Following behind,the EU represents the second-largest regional market,with its infectious-disease testing market estimated to reach $1.02 billion in 2012.There is strong growth in oncology testing and pharmacogenomics,which are predicted to show a compound annual growth rate of 10.71% and 11.05%,respectively,between 2011 and 2015.
Top 3 Medical Diagnostics Players
Roche is the market leader in IVD,holding approximately 20% of total market share,followed by Abbott and Siemens,each holding more than 10%.
Roche's 20% market share represents yearly sales of $44 billion,with key products such as CoaguChek and Accu-Chek fueling the company's growth.Roche saw 20% growth in Asia-Pacific alone and a 5% rise in the US.Acquisitions,such as in diabetes care (Medingo Ltd) and tissue diagnostics (Biolmagene Inc),should see continued market growth for Roche going forward.
In business for over 120 years,Abbott's sales in 2010 reached over $35 billion,and it invested $3.7 billion in R&D.Its main area of expertise in diagnostics is immunodiagnostics.Abbott's immunoassay diagnostic systems,AxSYM,is used to test for cardiovascular disease,cancer,infectious diseases and thyroid conditions.